About Author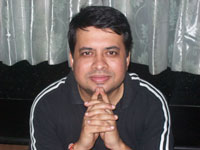 Ashwani Tyagi is a professional with more than 22 years of experience with Financial sector & Information Technology company. He has worked for companies like Shriram Housing Finance, Axis Securities (Axis Bank subsidiary), Max New York Life, Manappuram Home Finance & Bharti AXA Life. 

Presently he is working as Vice President – SME in AnandRathi Global Finance Ltd.

During his professional career Ashwani has gained rich experience in Sales, Business development, Channel management and Marketing. His team and colleagues continue to recognize him for his 'Team Management' and 'Relationship Management' abilities. 

Ashwani is an Engineer and has done his PGDBM from Mumbai. Originally from Ghaziabad (U.P.), the better part of his life has been spent in Mumbai where he lives with his wife and child.